Mechanical Weed Harvesting

Lakeville Lake has been cutting and removing weeds for over thirty years. The program is intended to improve the navigation in the lake and benefit everyone's use of the lake in general. The harvesting equipment can cut weeds up to four feet below the lake surface to aid boat operation but is limited to areas with at least three feet of water depth. Unfortunately there are areas in the lake that cannot be accessed by the harvesting equipment. The harvesting equipment cannot dredge or remove silt and other bio mass from the lake.
Most of our equipment was purchased in the mid-eighties and is now over thirty years old. A major rebuild is planned for the spring of 2018 with the expectation that equipment will be ready for the cutting season beginning sometime in May.
Effective with the start of the 2018 season, a contact number (248-495-8850) will be posted on the harvester. If you have weed related issues please call the number and your concerns will be reviewed for appropriate action. Do not stop the harvester operator - it is not safe and interferes with his/her directed work.
​ In 2004, invasive Eurasian Milfoil had grown so thick it was hampering navigation. Professional consultants advised that our mechanical harvesting could actually contribute to milfoil growth as cuttings dropped to the lake bottom and re-rooted as new plants. A program of herbicide treatments was initiated in 2006 in conjunction with the mechanical harvesting program. The herbicide treatments for Lakeville Lake are permitted through the Michigan DEQ/DNR to target invasive species only.
​
Herbicide weed control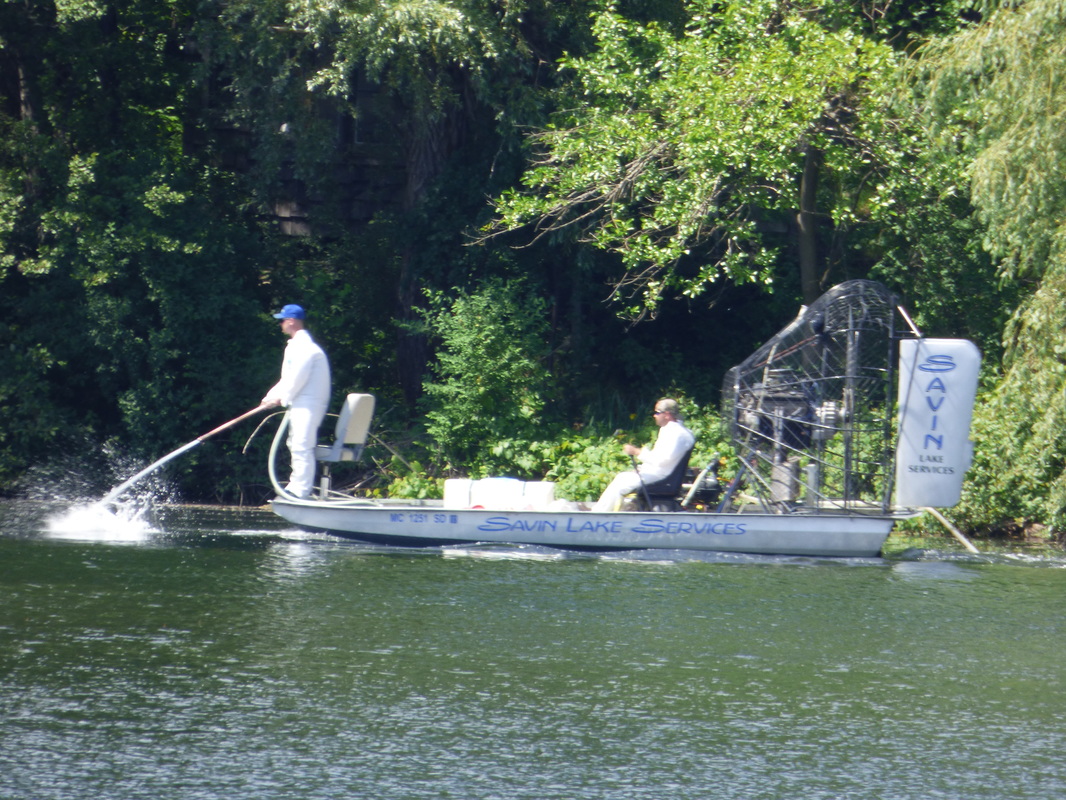 INVASIVE PLANT IDENTIFICATION
The Michigan Lakes and Streams Association's Cooperative Lakes Monitoring Program (CMLP) has established a program where individuals can send photos of aquatic plants directly to them via a smart phone application. Individuals spotting a new or unfamiliar plant are asked to sent a photo through the app where it will automatically be entered into the MLSA Exotic Aquatic Plant Watch program. The program is intended to identify new plant introduction in Michigan lakes and allow advanced reaction and control. The link to the free app follows along with a link to a video explaining the program.

http://www.misin.msu.edu/apps/#about
https://www.youtube.com/watch?v=-i7IvA7gK-I
​